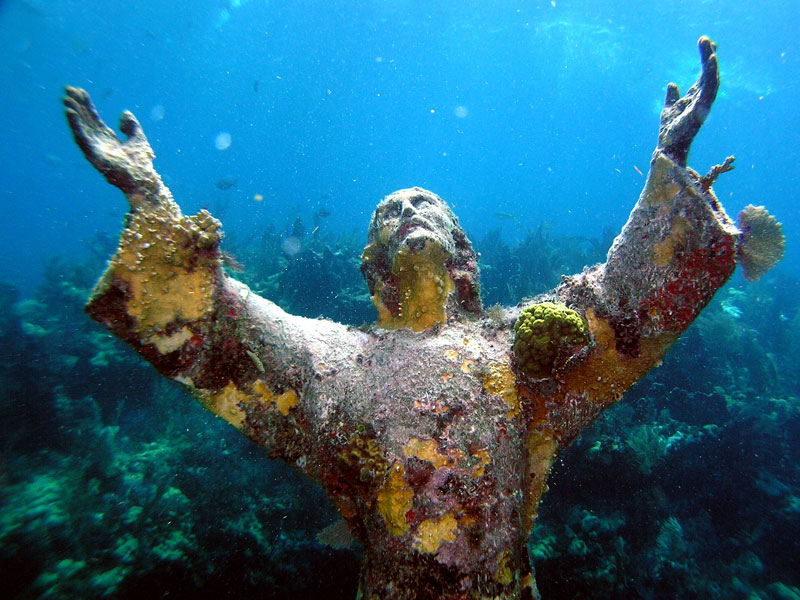 Key Largo is the northernmost of the Florida Keys in Monroe County, and is connected by U.S. Highway 1 (the Overseas Highway). At 33 miles long, this island in the upper Florida Keys, is the largest of the Keys. Key Largois an hour's drive from South Florida's two major airports; yet it is a world away.
Home to two state parks, a national park, and a national marine sanctuary, Key Largo boasts some of the most fascinating botanical scenery in the state. John Pennekamp Coral Reef State Park, America's first underseas park, is home to snorkeling, boating, kayaking and swimming, and the famous Christ of the Abyss underwater statue.
Key Largo is a popular tourist destination and locals consider their home the Diving Capital of the World. Key Largo is situated between the watery wilderness of the Everglades National Park to the west and the fish-covered coral formations of North America's only living coral barrier reef to the east. Key Largo's proximity to the Everglades makes it a premier destination for kayakers, birders and other eco-tourists. All this beauty, not to mention the island's rich history, has inspired a vibrant community of artists who show their work at several local galleries.
Area Attractions:
John Pennekamp Coral Reef State Park
Dagny Johnson Key Largo Hammock Botanical State Park
Jacob's Aquatic Center
Dolphins Plus
The Caribbean Club
The Diving Capital of the World:
Statue of Christ of the Abyss
USS Spiegel Grove
Molasses Reef
Benwood Wreck
The Elbow
Bibb & Duane
Businesses We Recommend:
Mrs. Mac's Kitchen
Harriette's Restaurant
Key Largo Fisheries Backyard
The Fish House
Num Thai Restaurant and Sushi Bar
Coldwell Banker Schmitt Real Estate Co.
Printing Plus
Keys Kritters
Area Information:
Sherriff's Office
http://www.keysso.net/
Chamber of Commerce
http://www.keylargochamber.org/
Schools
http://keysschools.schoolfusion.us/
Key Largo School
http://kls.keysschools.com/
Popular Neighborhoods:
Anglers Park
Bahia Mar
Bay Haven
Bermuda Shores
Buccaneer Point
Buttonwood Bay
Calusa Campground
Cross Keys Waterways
Harborage
Key Largo Ocean Shores
Key Largo Village
Largo Sound Park
Port Largo
Rock Harbor Club
Silver Shores
Current Listings:

Sorry we are experiencing system issues. Please try again.