Key Largo is the northernmost of the Florida Keys in Monroe County, and is connected by U.S. Highway 1 (the Overseas Highway). At 33 miles long, this island in the upper Florida Keys, is the largest of the Keys. Key Largois an hour's drive from South Florida's two major airports; yet it is a world away.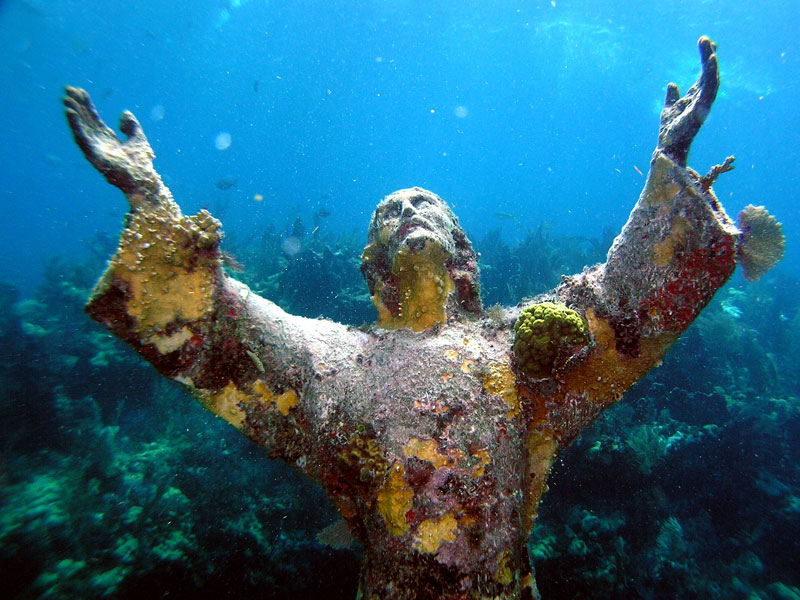 Homes for sale in Key Largo, FL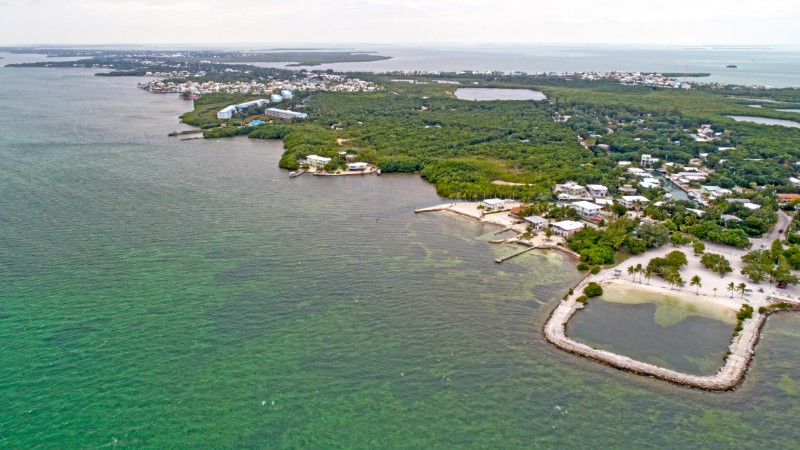 Pristine beaches, year-round warm weather, relaxing positive atmosphere – it's easy to see why Key Largo is a veritable tourist magnet. Beyond its reputation as a travel destination, it's also an ideal place to call home.
For those who are shopping for homes for sale in Key Largo, FL and thinking of planting their roots here, below are pieces of valuable real estate-related information to help make purchasing decisions easier. 
KEY LARGO, FL: AN OVERVIEW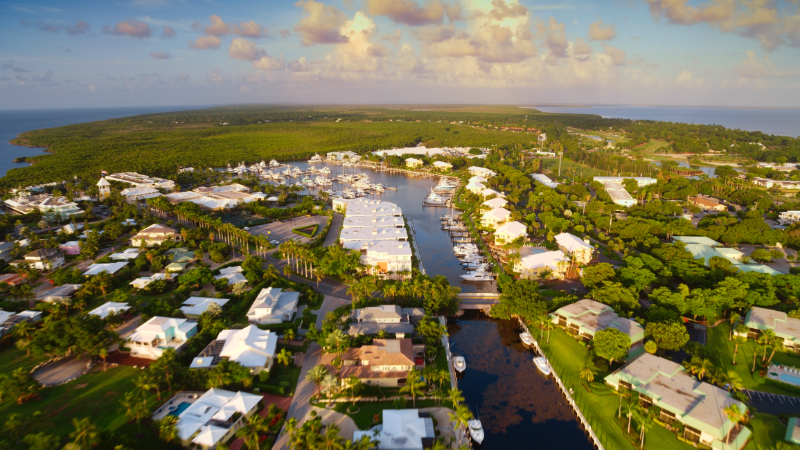 Key Largo is the first and largest among the Florida Keys and is widely recognized as the Dive Capital of the World, as well. That said, most of its biggest attractions showcase the area's strong connection with the waters in and around it, as well as the magnificent flora and fauna that thrive in it. Given its nautical theme, you can expect water activities to be plentiful. Some of these include diving, snorkeling, fishing, kayaking, and swimming with the dolphins. 
Key Largo's ideal location is one of the biggest benefits of living here. This paradise island spanning 33 miles long can be found on the northernmost section of the Florida Keys in Monroe County. It is connected to the mainland via the Overseas Highway.
Getting to and around Key Largo
The nearest airport to Key Largo is the Miami International Airport. From there, one can rent a car or board a shuttle bus and reach Key Largo in about an hour. Fort Lauderdale-Hollywood International Airport may be a little farther off but it's an alternative to busier MIA. 
Key Largo is also served by shuttle services. Greyhound Lines make scheduled stops between MIA and the Keys, while Keys Shuttle provides public and charter services between MIA/FLL and the rest of the islands. 
Geography and population
Key Largo consists of three census-designated places: North Key Largo, Key Largo, and Tavernier. None of these places is an incorporated municipality; thus, the area falls under the jurisdiction of Florida's Monroe County.
As of the 2020 census, these three places have a combined population of more than 12,000. The area attracts a lot of tourists and retirees, that's why most of the working-age residents work in the hospitality and service industries. There is also a strong demand for local government jobs in Key Largo.
"The Dive Capital of the World"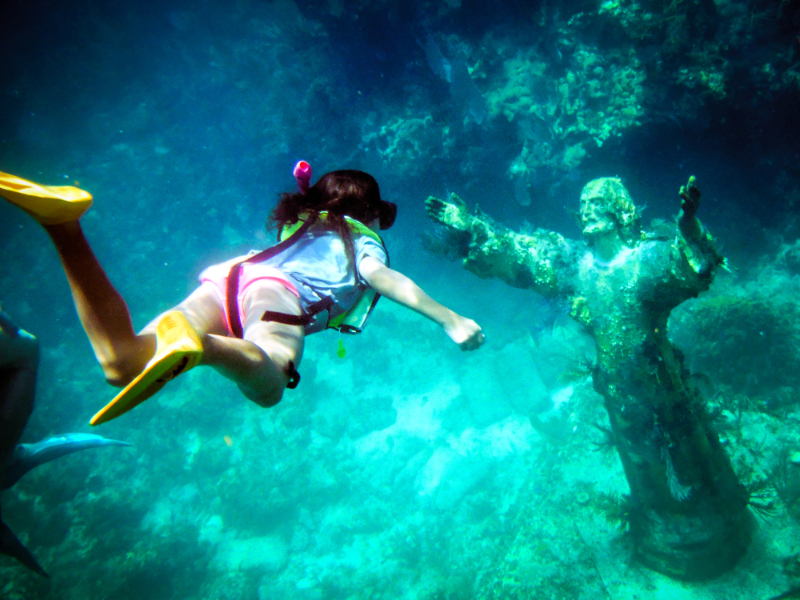 Key Largo is located adjacent to the world's third largest barrier reef and boasts a great number of easily accessible dive sites. From shallow coral reefs to deep sea wrecks, Key Largo offers a wide range of unforgettable experiences to enthrall divers of different skill levels. There are shallow patch reefs three to four miles from shore that offer wonderful snorkeling opportunities. However, the most breathtaking dive spots are located four to six miles offshore, where massive concentrations of reefs and wrecks are found. Some of the top diving spots in Key Largo are listed below.
The Christ of the Abyss sunken statue serves as an iconic symbol of Pennekamp Park and a memorial to sailors lost at sea. The 9-foot bronze statue is a replica of the original one that sank in the Mediterranean Sea and was cast from the same mold. The famous statue towers over a thriving coral reef led by an overpowering brain coral, which houses impressive populations of stingrays, turtles, moray eels, nurse sharks, and a large number of reef fish species.
Carysfort Reef is a double reef near the northern boundary of the Key Largo National Marine Sanctuary. Marked by a 112-foot lighted steel tower, Carysfort Reef features elkhorn, staghorn, and fire corals magnificently thriving alongside boulder corals, forming an intermingling coral web that's exciting to explore. 
The Elbow is a bank reef complex jutting out of the Gulf Stream waters with a shape like a bent arm. It is located about six miles southeast of Key Largo and is known for its well-defined spur and groove system and high-quality deepwater corals. The Elbow also features numerous sunken shipwrecks such as the City of Washington, a schooner that sank during the Civil War in 1917.
Molasses Reef is arguably the most popular dive site within the Florida Keys National Marine Sanctuary. Lying about five miles southeast offshore of Key Largo, Molasses Reef is home to more than 600 species of corals, plants, and marine creatures. Like The Elbow, Molasses Reef also lies adjacent to the cleansing waters of the Gulf Stream, providing divers with amazing visibility throughout the location's 30-plus dive sites. 
The Spiegel Grove Project is an artificial reef primarily made up of the sunken 510-foot USS Spiegel Grove vessel. Located seven miles offshore of Key Largo, the Spiegel Grove wreck requires an advanced-level certification as the dive site is very deep and the ship itself is filled with treacherous sections. Those without advanced certification may dive with a dive guide. After being sunk in 2002, the ship has been attracting algae, sponges, and corals in massive numbers. To date, over 130 species of fish have turned the reef into their habitat, essentially adding to the area's biodiversity.
Divers heading out to these dive sites should make sure they are certified to dive. For safety, a medical examination should be taken to confirm fitness for the descent. Divers should also double-check each piece of scuba gear for wear and damage and always keep important safety tips in mind.
THE KEY LARGO REAL ESTATE SCENE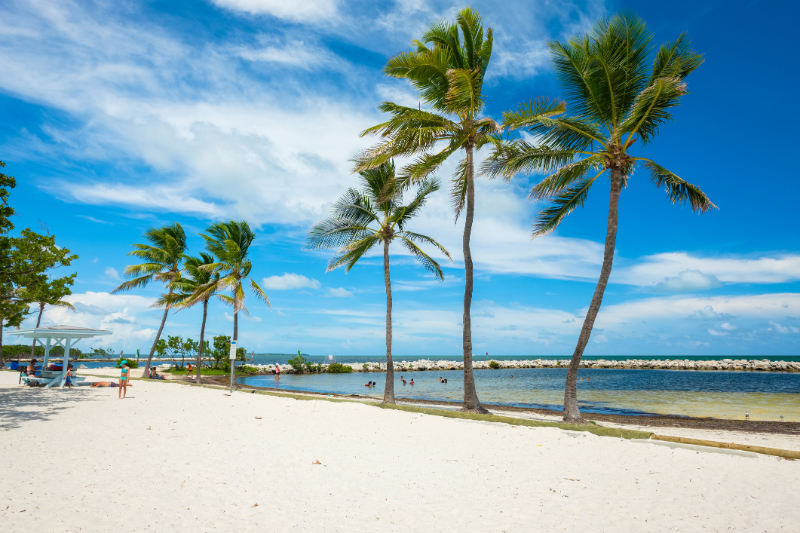 Key Largo has had a rich real estate background since the early 1900s when it began a path toward tourism and development. The area saw a significant real estate boom from the 1950s to the 1980s, marked by the construction of a large number of beachfront vacation homes and gated communities. Current properties in Key Largo include waterfront homes, luxury homes, single-family homes, townhouses, and condos that allow vacationers and residents to enjoy the best of the tropical lifestyle in the Keys.
Real estate trends
Key Largo's market has been getting a lot of attention from those coming from northern states like Seattle, Washington D.C., and New York, with New Yorkers adding the most number of people to the Key Largo population between May and July 2023. With Key Largo homes for sale mostly located by the waterfront, they count as prime real estate – a strong magnet for affluent homebuyers, smart investors, and retiring snowbirds.
Prices of sold homes here have been moving within the range of $545,000 and $1.9 million in the past three years while listing prices barely left the $1 million benchmark in the same period. The housing inventory has increased in recent times, though, giving buyers a wider selection of Key Largo real estate for sale to choose from and snap up. Luxury homes for sale in Key Largo could command a price as high as $35 million, given their waterfront setting, expansive lot sizes, and special amenities ranging from a gourmet kitchen and a private dockage to multiple terraces from where one can enjoy watching the sunset while sipping their favorite drink. 
Most of the communities on the island are just a few decades old; which is why Key Largo real estate for sale sports a modern or contemporary architectural design. But there are also some with classic design influences, such as Queen Anne. The Mediterranean style is another popular choice among luxury homes in Key Largo, primarily for their suitability to the coastal climate and aesthetic appeal.
There are two emerging trends among Key Largo homes: one is the use of eco-friendly and sustainable materials and techniques in home building while the other is the incorporation of smart and energy-efficient home features, such as virtual assistants and internet-enabled security systems. Other in-demand features include gourmet kitchens, private gyms, and easy beach access. It will be wise to seek these qualities in a Key Largo home to ensure that the property attracts many interested buyers come resale time.
Cost of living
Despite the many luxury homes for sale in Key Largo, FL, the cost of living is pleasantly low – overall expenses here are 8% lower than the national average. The low cost of living, combined with the high quality of life, combine to make the prospect of living here all the more enticing.
When shopping for Key Largo real estate for sale, here are some of the rates of expenses to expect when living here, according to Payscale.com:
Housing expenses – 37% lower than the national average
Utility costs – 3% lower than the national average
Transportation costs – more or less equal to the national average
Grocery prices – 8% higher than the national average
Healthcare costs – 8% lower than the national average
LIFE IN KEY LARGO, FL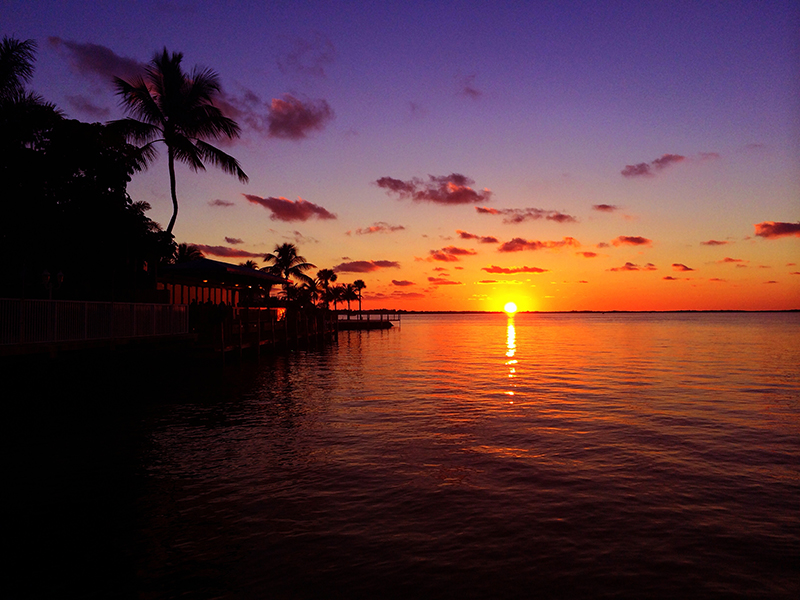 One of the major reasons behind Key Largo's popularity as a tourist destination and retiree haven is the myriad recreational activities to enjoy in the area. These include water activities that keep the adrenaline pumping, local shopping venues for tropical apparel and diving gear, food spots serving freshly caught seafood and other culinary treats, and more. 
Here's what people can expect when they set foot in this beautiful island paradise.
Year-round sunny weather
Key Largo enjoys 250-plus sunny days per year, with temperatures averaging in the low 80s. The island's climate remains stable all year round, although rains are expected around the months of August and September. Tourist season in this laid-back tropical haven is between the months of March and July, from spring break to the Fourth of July weekend. Although afternoon thunderstorms are common, Key Largo's weather is at its absolute best during these months.
Plethora of recreational opportunities
Although it is known primarily for diving, Key Largo is abundant in all kinds of outdoor pursuits. Water activities to enjoy include fishing (backcountry and deep sea), paddleboarding, kayaking, sailing, and dolphin-watching. The John Pennekamp Coral Reef State Park is one of the local epicenters for year-round water activities and attractions.
Those who prefer less strenuous undertakings can visit the History of Diving Museum, Dagny Johnson Key Largo Hammock Botanical State Park, or Laura Quinn Wild Bird Sanctuary. Day trips are also available for those who want to explore the island and its surrounding areas.
Delectable dining options
All over Key Largo, there's a wide selection of dining options serving dishes imbued with a "Floribbean" flair. Popular dining spots such as What The Fish Rolls & More, The Fish House, and Hobo's Cafe serve local seafood specialties such as hogfish, conch, spiny lobsters, and tarpons. Sundowners, a relaxed Florida Bay haunt known for epic sunsets and daily Happy Hour, offers visitors the perfect end to a perfect Key Largo day. Those with a sweet tooth should make it a point to visit the Blond Giraffeand savor the bakery's multi-award-winning Key Lime Pie.
Unique shopping experiences
Whether shopping for the perfect gear, gift, or memento, Key Largo offers a superb selection of unique shops where folks can find what they need. 
Sandal Factory Outlet, Tavernier Towne Centre, and Largo Cargo are the top shopping places where people can go for high-quality beach gear. Key Lime Products sells bohemian lawn and garden decor pieces, as well as eclectic souvenirs from all over the world. The Lobster Trap Gallery showcases the work of local artists who are proud to call the Keys their home.
Local warmth and hospitality
Key Largo is a great sanctuary from the hustle and bustle of everyday life, and one of the main reasons for this is the friendliness of the locals. New arrivals will immediately be greeted with smiles and positivity. Whether coming in as tourists on vacation or living in Key Largo, Florida for the long term, people will find themselves falling in love with the locals' friendly attitude and easygoing approach to life.
BEST COMMUNITIES IN KEY LARGO, FL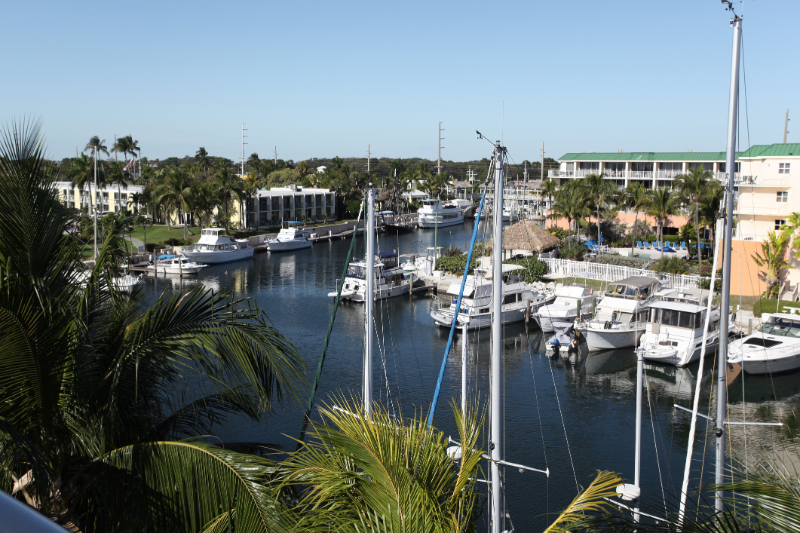 Whether retiring, looking for a new career, or craving a change in scenery, Key Largo offers something for everyone. If you are serious about living or investing in Key Largo, Florida, here are five of the best communities where you can snap up Key Largo real estate for sale. They are known for best-in-class amenities, scenic views, secure environments, and well-maintained public spaces.
Buttonwood Bay is a gated community located on the Gulf side of the southern portion of Key Largo. This 280-unit condo community rests on a lush 42-acre area surrounded by tropical beaches, trails, and trees. It boasts a stunning marina view, private boat slip, and direct access to the community's very own deep-water coral rock harbor. Amenities include heated swimming pools, sports courts, an event venue, and "martini docks" where people can get together at the end of the day.
Calusa Campground is on the northernmost part of Key Largo and one of the island's closest communities to Miami, which is just 63 miles away. This enviable location makes for a vibrant and diverse community made up of upscale condo units. The community itself offers many top-notch amenities, including a children's playground, family pool, laundry area, multiple sports courts, and a courtyard complete with fire pits and hammocks. 
Cross Key Waterways Estates is a luxury community that offers newly constructed waterfront homes. Just a 20-minute drive from Downtown Key Largo, Cross Key Waterways offers buyers plenty of customizable options. Those who want complete control over how their home will look will want to check out this Key Largo community first. 
Key Largo Ocean Resort is a 22-acre gated condo community located at Mile Marker 94.8, on the island's Atlantic side. This relatively budget-friendly real estate option consists of 285 units with amenities that are usually found among more upscale enclaves, such as tennis courts, basketball courts, private marina slips, and the community's very own pier. 
Port Largo is one of the most sought-after communities for Key Largo waterfront homes for sale. Many of the homes here offer deep-water dockage and easy ocean access. The neighborhood is also just a stone's throw away from Downtown Key Largo. For those who want to live in close proximity to both the water and big-city amenities, Port Largo homes are the properties to beat.
Largo Sound Park can be found on the Atlantic side of Key Largo, in the area of the John Pennekamp Coral Reef State Park. This mid-priced Key Largo community Is perfect for those looking for high-quality homes at prices that are less of a burden on the pocket.
TALK TO A KEY LARGO PROFESSIONAL REAL ESTATE AGENT
Interested in waterfront homes for sale in Key Largo? Whether to settle in, buy as your new vacation getaway, or invest to cash in on the locale's thriving tourism industry, your home-buying goals can become a reality when you take on the professional services of top-notch Florida Keys Realtor, Alina Davis. Working under the prestigious Coldwell Banker Schmitt brand, Alina brings to the table her 14+ years of experience in the industry and her long-time love affair with the beauty of the Keys to provide clients with in-depth knowledge of the local market and a hassle-free approach to navigating the home-buying process. 
Take that first step toward homeownership in the Florida Keys by getting in touch with Alina at 305.393.0541 or emailing herhere.
Area Attractions:
John Pennekamp Coral Reef State Park
Dagny Johnson Key Largo Hammock Botanical State Park
Jacob's Aquatic Center
Dolphins Plus
The Caribbean Club
The Diving Capital of the World:
Statue of Christ of the Abyss
USS Spiegel Grove
Molasses Reef
Benwood Wreck
The Elbow
Bibb & Duane
Businesses We Recommend:
Mrs. Mac's Kitchen
Harriette's Restaurant
Key Largo Fisheries Backyard
The Fish House
Num Thai Restaurant and Sushi Bar
Coldwell Banker Schmitt Real Estate Co.
Printing Plus
Keys Kritters
Popular Neighborhoods:
Anglers Park
Bahia Mar
Bay Haven
Bermuda Shores
Buccaneer Point
Buttonwood Bay
Calusa Campground
Cross Keys Waterways
Harborage
Key Largo Ocean Shores
Key Largo Village
Largo Sound Park
Port Largo
Rock Harbor Club
Silver Shores